Another divisive piece has arrived. Today, we'll discuss whether you should call your Toyota 4runner truck or SUV. It's not as easy as you may imagine. Even though SUVs and pickup trucks are fairly similar, this group is distinct. In theory, a Toyota 4runner is considered a sport-utility vehicle (or SUV).
A 4runner is effectively a pickup truck without a bed since it has a body-on-frame, a solid rear axle, and the capacity to pull and haul. On the other hand, some people feel that a 4runner cannot be classified as an SUV since it doesn't have four-wheel drive. So, what's the final verdict?
The Difference Between A Truck And An SUV
Before answering Toyota 4runner truck or SUV, let's first determine the difference between a truck and an SUV. Trucks are built for hauling heavy loads, while SUVs are built for passenger comfort. Trucks have a taller ride height than SUVs, which allows for better visibility and prevents cargo from shifting during transit.
They also have a more pronounced front end which gives them better stability when towing or carrying heavy loads. SUVs typically have a car-like ride and offer more creature comforts such as heated seats and sunroofs.
A truck is a way to go if you're looking for a vehicle that can handle tough terrain and heavy loads. If you prioritize passenger comfort and convenience features, an SUV is the better choice.
Review Of The Toyota 4Runner
Most other mid-size SUVs and crossovers that litter the roads and fill suburb driveways are unlike the Toyota 4Runner. This is due to the 4Runner's older-than-new vehicle design, which features a pickup-truck chassis and boasts true off-road prowess. It features enhanced suspension parts, an electronic lock rear axle, more underbody protection, and knobby tires in its most powerful configurations.
Every model comes standard with a 270-hp V-6, an automatic transmission, and rear- or four-wheel drive. Sadly, its powerplant is outdated compared to driving competitors with body-on-frame construction like the Ford Bronco and Jeep Wrangler. The 4.0-liter engine in the Toyota may be dependable, but it also consistently uses fuel at an alarmingly high rate.
This truck-based SUV handles loosely and rides unpolished on public roads, much as a truck would. The truck's interior is spacious for passengers and freight, but the materials are dull. The 4Runner can travel in locations many of its peers cannot, but it is unquestionably outdated beyond those specific, constrained situations.
If you're looking for a daily driver that can occasionally haul some gear or take a trip off the beaten path, there are better choices than the 4Runner. Consider one of the many unibody crossovers that have taken over dealership lots in recent years. You'll be glad you did when it comes time to fill the tank.
What Has Changed
Toyota releases a special edition with a 4040-unit manufacturing run based on the standard SR5 model to commemorate. The 4Runner nameplate celebrates 40 years in the latest model years. The '23 4Runner 40th Anniversary Special Edition features tri-colored artwork on the body sides and grille and is painted in red, white, or black.
There are also a pair of 17-inch bronze wheels included in the package. The embroidery on the leather seats & shift knob inside is the same golden tone. The front headrests, floormats, and a few inside emblems also refer to the 4Runner's 40th birthday. All models come standard with blind-spot monitoring & rear cross-traffic warning. Android Auto and Apple CarPlay are now supported.
Cost And Which One To Purchase
The TRD Off-Road model is the one we advise. Although it is less competent off-road than the TRD Pro with the lift, it is a better bargain due to its substantially lower price. The TRD Off-Road receives equipment that helps live up to its moniker, basic four-wheel drive, and a few TRD-specific external and interior components.
This offers the best traction possible in slick or muddy situations, thanks to an electrically locking rear differential. Additionally, the SUV offers two selectable drive modes—Multi-Terrain Select & Crawl Control—that may change the behavior of the SUV's engine to meet different driving situations.
We would go for the extra Kinetic Dynamic Suspension, which enhances wheel articulation while driving off-road. The movable rear cargo deck that facilitates transporting big stuff and even offers tailgate seats is another option we'd consider.
Performance, Engine, Transmission, And Other
A 4.0-liter V-6 engine with 270 horsepower and a five-speed automatic gearbox power every 4Runner. The outmoded powertrain offers unimpressive performance, with the most recent model we tested needed 7.7 seconds to get from 0 to 60 mph.
The automatic's lethargic responses certainly don't optimize the engine's erratic behavior, and downshift often requires heavy right-foot inputs to spur the 4Runner ahead. Still, the Toyota feels more composed on pavement than the more unwieldy Wrangler.
Our time behind the wheel of the off-road-oriented model showed off the SUV's notable ground clearance, and its body-on-frame construction was supported by a soft suspension that absorbed a variety of terrain reasonably well.
The 4Runner's steering is lightly weighted and imprecise, and while those traits betray any sense of sportiness, they're fine for crawling along trails and around parking lots. Aged though the Toyota feels in action, its performance is right in the mix with its more modern competitors, including the V-6 Dodge Durango.
And the Toyota's rugged frame and torque-rich engine give it a leg up in towing; its 5000-pound capacity beats the Ford Edge and Wrangler while falling short of the more powerful Durango's 8700-pound limit.
The Toyota also outperforms the Ford Edge and Wrangler in towing ability, with a 5000-pound capacity, while coming up short of the more potent Durango's 8700-pound maximum. This is due to Toyota's rigid structure and torque-rich engine. The automaker's Entune infotainment system is available on the 4Runner and standard on higher trims.
It uses a 6.1-inch touchscreen display, and its interface is dated compared to what's offered in newer Toyotas, let alone rivals such as the Honda Pilot. The Entune app suite includes Pandora, iHeartRadio, and Yelp integration, but it requires a smartphone connection to use most of its features.
A USB port and an auxiliary input are standard, but Bluetooth phone and audio streaming are unavailable on the base SR5 model. Higher trims get an upgraded JBL audio system with 11 speakers, satellite radio, and HD Radio.
Fuel Efficiency And Actual MPG
Every model of the 4Runner is rated at a pitiful 16 mpg inside the city & 19 mpg on the highway, making its engine combinations outdated regarding gas mileage. The V-6-powered Wrangler, in contrast, is estimated to get up to 19 mpg in the city and 24 mpg on the highway.
The most recent 4Runner we tested fared better than expected by earning 22 mpg on our rigorous testing schedule's 75 mph interstate fuel-economy route.
Cargo, Comfort, And The Interior
The 4Runner's interior lacks a modern feel, with switchgear that appears to date from the last years of the previous millennium. Despite its back-of-the-class interior dimensions, defective materials, and aesthetics, it comfortably fits people front and back.
The 4Runner is as adaptable a mover as a rock crawler thanks to a flexible cargo compartment and numerous spacious, deep compartments in the front row. The third row is optional, and while we haven't tried it, we believe kids should sit in it. However, if you don't have a chiropractor on hand, avoid attempting to toss anything in the cargo hold because the floor is too high off the ground.
The additional pull-out cargo deck on the two-row vehicles we tested made it simpler to load and unload heavy objects (up to 440 pounds). When the second row of seats is folded, it creates a level load floor and reduces the cargo hold height by several inches. It can also serve as a sitting tailgate. Nevertheless, we managed to cram 14 carry-ons behind the 2nd row.
Connectivity And Information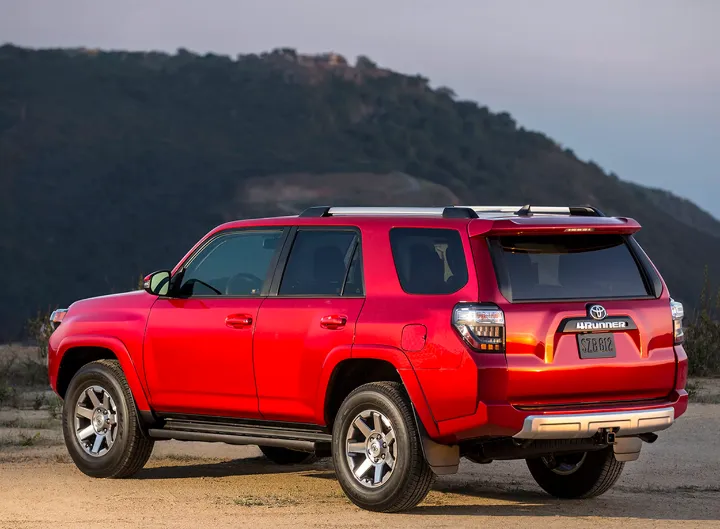 An 8.0-inch smart play infotainment system is standard on every 4Runner. Upgrades include a 15-speaker audio system and an integrated navigation system. Along with physical buttons, the interface also has rotating volume & tuning knobs. The system includes a subscription-based Wi-Fi hotspot, Apple CarPlay, and Android Auto as standard features.
Features For Driver Assistance And Safety
Every model offers a variety of driver-assistance features, including rear cross-traffic warning, blind-spot monitoring, and automatic high-beam headlights. Visit the websites of NHTSA & Insurance Institute for Highway Safety (IIHS) for additional details regarding the 4Runner's crash test results. Important safety elements include:
Standard automatic emergency braking with forwarding collision warning
Lane-keeping assistance and the common lane-departure warning
Conventional adaptive cruise control
The 4Runner has a strong structure and many airbags to help protect occupants in the event of a collision. It comes standard with front, side, side-curtain, and driver's knee airbags. The Toyota Safety Sense system is also standard and uses sensors to detect potential frontal collisions. This system then activates pre-collision braking and/or seatbelt tightening if a crash is imminent.
Maintenance And Warranties Coverage
Toyota offers free planned maintenance for two years, which is unusual in this class. Although less outstanding, the coverage in the other areas is standard for the sector.
The limited warranty covers 3 years / 36,000 miles.
The powertrain warranty covers 5 years / 60,000 miles.
The free maintenance covers 2 years / 25,000 miles.
Here Are The Changes To The Toyota 4runner Over The Last Five Generations
Many car-based soft-roaders today have visual upgrades that communicate toughness. With the Toyota 4Runner, that has never been the case since it was designed from the ground up to be capable when the pavement stops. Consider the 4Runner as the opposite of a crossover.
Although it has a body-on-frame structure, locking differentials are an option, and four-wheel drive is standard, it is nonetheless roomy and comfortable in town. The car, which is currently in its 5th generation, keeps enhancing its key capabilities. Continue reading to understand how far it has come and to view images of 4Runners from each generation.
Initial Generation (1984-1989)
The 4Runner was originally no more than a customized Hilux pickup truck. A fiberglass shell was placed over the bed, back seats were added, and padding was included to make this more comfortable for the two-door truck. It also received a retractable windscreen in the back tailgate, which became a 4Runner trademark.
Off-road aficionados highly prize the early versions of this generation since they had a solid front axle and independent suspension halfway through, which improved road manners. The 2.4-liter 22RE I-4 engine, which produces roughly 100 horsepower, was the most common, although a 3.0-liter V-6 and a turbocharged variant of this engine were also offered.
Generation Two (1990-1995)
The second-generation 4Runner still had a structure modeled on the Hilux pickup truck, but it had a distinctive body with rear doors that better accommodate people. Side leaf springs were swapped out for coils, while the earlier generation's independently suspended front remained intact. Once more, a 3.0 liter V-6 was an upgrade option for the 2.4 liters I-4 basic engine.
To minimize noise, V-6 vehicles received chain-driven transfer cases; nevertheless, the gear-driven mechanism of the I-4 is thought to be more durable.
Generation Three (1996-2002)
The 4Runner developed into its product in version three. It had a brand-new body and a separate chassis from a pickup truck. The engines were upgraded to a 3.4-liter V-6 from the standard 2.7-liter I-4. The emphasis on off-road capabilities was maintained, but several improvements made it a better road car.
To increase room and ergonomics, the inside was completely redesigned, the wheelbase was extended, and the body style was flattened.
Generation Four (2003-2009)
With the fourth generation, the trend toward a more focused SUV on the road persisted. It still had a body-on-frame structure, but the outward appearance was rounded and car-like. The interior once again becomes more roomy and luxurious. A 4.0-liter V-6 engine replaced the four-cylinder options, and a 4.7-liter V-8 engine was added.
Both employed a locking Torsen center differential that is more practical in daily circumstances even if it is ultimately less trail-capable than independent axle locks.
Generation Five (2009-Present)
The 4Runner of today offers more comfort and power. Customers love the 4Runner because it is a tough SUV that can be used daily: Year over year, sales are up. It is now more abundant than before thanks to a 4.0-liter V-6 engine with 270 horsepower (an I-4 has only been temporarily offered).
A TRD Pro option adds enhanced shocks, tires, springs, and skidplates to make it trail-ready for off-road fans. It received more USB ports and contemporary driver assistance technologies in 2019.
Toyota 4runner Truck Or SUV: Some Arguments
Toyota vehicles are frequently discussed due to their dependability and high resale. Typical examples of this class are Tacoma, Tundra, Sequoia, Land Cruiser, and 4Runner. Many people mistakenly think of these as "Toyota Trucks." But is Toyota 4runner truck or SUV? A glance at Toyota.com reveals that they don't.
On the website, the Sequoia and 4runner are categorized as "Crossovers and SUVs and Minivans." The debate is not necessarily over yet, though. Whether to call an SUV a truck is a decision we must make. You should know that the word "SUV" includes cars like the Tahoe, Suburban, Expedition, and Wrangler.
Crossovers are more closely related to cars than SUVs, such as the Toyota Highlander. Let's examine some justifications for and against the 4runner becoming considered a truck.
It Is Built With A Body On The Frame
The 4runner belongs to the ever-diminishing class of real body-on-frame vehicles in a universe of unibody wagons, cars, and crossovers. Apart from the Honda Ridgeline (which we won't touch with a 10-foot pole), this has the same design as almost every individual pickup truck. The Tacoma pickup truck and the Toyota 4runner's first and second generations used the same chassis.
When the 3rd generation was released, that was over. The frames aren't precisely the same, but they are nonetheless comparable. Nowadays, unibody designs dominate crossovers that are advertised as adventure vehicles. The body-on-frame construction of the 4runner keeps it looking quite truck-like.
The frame of the 4runner may result in a rougher ride and less headroom, yet it also makes it possible for it to pull a respectable amount of weight rather well. That trait reminds me of a truck.
There Is No Pickup Truck Bed On 4runners
This is the main argument against the 4runner being categorized as a truck, and it indeed has an enclosed cargo space rather than a box. But here's something interesting: the payload rating for the Tacoma and 4runner are rather close when considering the definition of a truck (transporting large objects).
The towing capacity increases to 7,000 lbs when you upgrade to a V8 4runner, which is somewhat higher than the Tacoma. A car or truck must not always have a pickup bed to qualify as a truck. A pickup bed is required for a "Pickup Truck." However, that is a particular truck, just like an SUV.
Truck Parts Are Interchangeable
Several components, including brakes, wheels, and suspension, are used in every Toyota truck model. There are interchangeable components for the 4runner, FJ Cruiser, Tacoma, Tundra, Sequoia, LX470, Land Cruiser, and GX470 (depending on model year). That wouldn't be the case if the 4runner were built on a vehicle.
This demonstrates that certain vehicle parts are used to build the 4runner. Think about the impossibility of trying to connect a pair of Camry wheels to your 4Runner. However, it is simple to switch upper control arms from a Tacoma onto a 4runner.
Coil Springs, Not Leaf Springs, Are Used In 4runners
Unlike the Toyota pickup trucks, the 4runner has a separate rear suspension. While the 4runner has coil springs, they have leaf springs. Does that imply that it isn't a truck? It doesn't, in our opinion. Many contemporary pickup trucks (such as Rams, for example) employ airbags or coil springs in the back, yet they are still regarded as trucks.
They probably ride a little better when empty, and the 4runner has a somewhat lower cargo rating than the Tacoma.
4runner Registration License Plate
In Ontario, conventional vehicle license plates are provided for 4runners and other SUVs. Pickup license plates are a distinct hue. This demonstrates that the 4runner is not a truck. Several jurisdictions grant truck plates to a 4runner instead. Some perceive it as a wagon. Our governments can't agree on this. Your 4runner may or not be considered a truck legally. Very peculiar.
Only One Sort Of Person Should Purchase A Toyota 4runner
A new automobile purchase should always be considered an investment. In their daily activities and routines, so many people rely on cars. With so many alternatives available, customers want to be certain they are selecting the best selection. A vehicle tells a lot about its owner. There is one sort of individual who the Toyota 4Runner is ideal for and that person.
Only individuals who enjoy off-road driving should purchase a Toyota 4Runner. Off-roading is essentially traveling over unpaved terrain. Fields and forest paths are attractive locations for off-roading enthusiasts. When crossing uncharted terrain and pathways, the Toyota 4Runner offers much-needed grip.
For those looking for an SUV, this model is perfect. Drivers enthusiastic about adventure and off-road driving might think about getting a 4Runner.
Last Word
Toyota 4runner truck or SUV? The Toyota 4runner is a Sport Utility Vehicle, and we can all agree on that much. The issue is that the acronym "SUV" is lengthier and less spoken naturally than terms with only one syllable, like "car" or "truck." If we have to choose something simpler to pronounce, "truck" is the obvious victor because an SUV is far closer to a truck than a car.
A 4runner is a type of SUV, the same as a pickup car. If you disagree, please post your justifications in the comments section below.